The room
Smart, easy-going lux meets digital heaven. Our rooms are the centre stage of our philosophy and take modern comforts to a whole new level. The room unlocks with your smart phone. A tablet controller manages room ambience by modifying lights and temperature, by arranging wake up alarms and by contacting room service. A phone ghost charger is by the bed. All rooms get upgraded into experience areas with rock, wine, fitness, design and more concepts.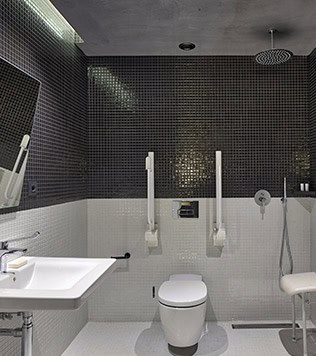 room
Rooms
autograph suite
signature suite
surname c-view
family name
full name
surname
first name
nickname
smart name
autograph suite
A great view can change everything. Especially if you experience it from your own balcony. Looking over Thermaikos Gulf this suite is the epitome of relaxed lux. Comfort, style, connectivity. The perfect set to create your own story and live it fully, your way.
signature suite
Your cell phone opens the door and you enter a suite that recognizes and incorporates all your desires. Digital affluence, generosity of space, abundance of amenities. You are the creator of your experiences and this suite stands as your ally and facilitator.
surname c-view
Now that's a reason to spoil yourself bigtime. Go seven floors up and voila! There is heaven, fully equipped with breathtaking views of the city and the sea, an all-yours-balcony and a huge bed to crush and reflect on your good luck to be here.
family name
We are all brothers and sisters in this universe. And family is anyone you choose. Gather all your tribe in a room that feels super chill. This gang friendly space has a glorious king size double bed and a bunk bed plus comfortable living spaces. Enjoy bro.
king size double bed & bunk bed
full name
Your social feed will love this room. Use it as your setting for new experiences. Its contemporary spirit is a mood changer, with chic spaces that you can use however you like. Consider it as your own personal kingdom of cool modern lux with a big digital heart.
surname
Your big name is a fine metaphor for our big, modern, cozy, comfy, super functional room. With lots of space available for you to be yourself, use it to chill out, work, play, connect, have a great shower and get ready to discover the city's hidden treasures.
first name
Your first name is who you are. This room understands you so well, like you've been introduced. Spacious with double-twin beds, with all amenities and comforts that a modern day traveler needs. A true personalised experience just for you.
nickname
We are sure you have a nickname. Now you also have a super marvelous room high in comfort and personality that fits you so well just like your nickname. Perfect for easy breezy stay, the room offers a quite setting for self reflection or fun. The room is mobility accessible.
smart name
Travel smart is the new black. Pat yourself on the back for finding the ideal room for a business stay or for whatever reason you like. It is packed with all essential comforts and it is cool and enjoyable to live in. Its smart price is yet another uplifting element.
In room services & amenities
Marshall Bluetooth Speaker
Tablet in room controlling lighting, curtains, temperature, TV, room service, express check out, concierge messaging
Satellite widescreen TV
Wireless charging
Comfy anatomical beds
Pillow options
Rain shower
Safe Box
Mini Bar with complimentary bottled water
Coffee and tea making facilities
Espresso coffee maker
Bathrobes and slippers
Branded toiletries
Laundry and dry cleaning
Baby cot
Iron & ironing board
Trouser press
Wakeup call
Daily room cleaning and servicing
Daily change of towels and sheets
Towels replacement upon request
Turndown service
Unlock your room with your phone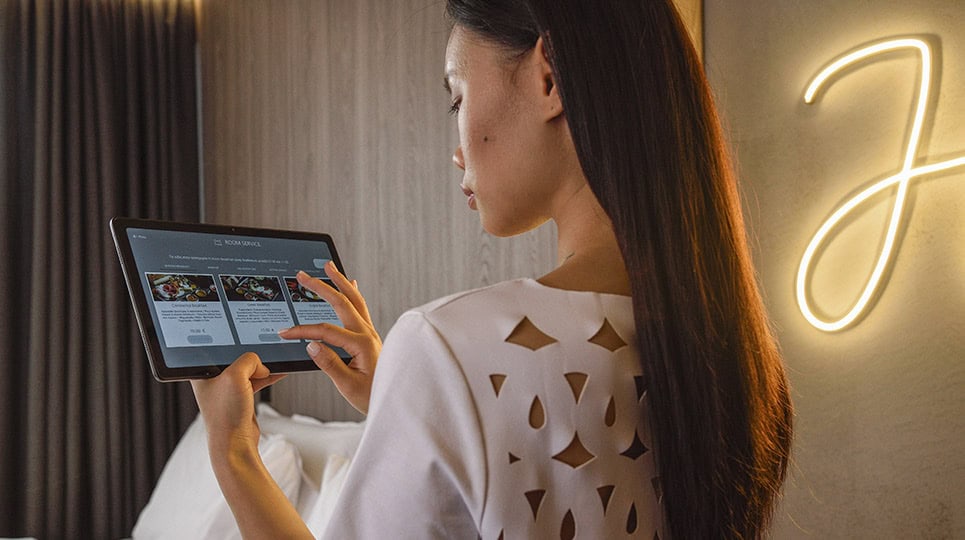 Experience
controller
Today's travellers control their journeys through
their smart phone where their music, photos and videos are.
We communicate with our guests exactly where they control
their world.
Your smart phone becomes the key that unlocks your room
and gives you access to special experiences, perks and rewards.
Through customised messaging you will get information about
the weather, or special events that take place in the city
that match your personal preferences.
Room concept
Personalise
your room
Everyone cherishes an opportunity for extra customisation.
Our rooms are spaces of personal expression that can
be finely adapted to individual experience tastes. We offer
inspirational concept themes, from rock culture to classic
art elements, fitness, wine tasting or gaming, that
guests can choose and spice up their room's ambience.
Gaming Arena
Only a gamer can understand a gamer. And we get you. Your room can change.
It can become a gaming arena and you can play as much as you want because you deserve it.
The upgrade includes Gaming Laptop, Mouse, Mousepad, Gaming Chair, Headphones,
Special Light Effects.
ask the composers how to upgrade your room
Application
Control
your booking
from your phone
Just like in an airport, our guests can choose the easy,
simple and time effective way of auto check-in.
In a few moments, all are clear for fun to begin. Check-in
begins long before arrival by connecting to the hotel's app.
Downlad the App